Avail the best quality Centrifuge Machine, Stainless Steel Milk Can, Thermometer and other products at affordable prices!
About Us
Establishing a strong foothold in the industry is not an easy job. It takes years of struggle to make place in the hearts of customers. We, Kaustubha Dairy Equipments Pvt. Ltd., are looked upon as a reliable business partner because of our years of hard work that we have been doing since our emergence in the year 2011. After these many years also, the employees of our company strive day and night to make our customers happier by offering quality-assured range of products at competitive prices. Paper Billing Roll, Stainless Steel Milk Can, Liquid Detergent and Centrifuge Machine are some of many products that we offer to our customers. By operating as a manufacturer and wholesaler, we are able to bring forth such a wide array of products.
Why Choose Us?
It makes us immensely proud in referring ourselves as one of the most reliable business partners to associate with because we keep expanding our product-line and our business operations to leave no stone unturned in delivering the best to our customers. Apart from gaining excellency in manufacturing and wholesaling domains, we work as an exporter, as well. Our strong customer-company and company-vendor relations have enabled us set up a wide network in different nations like Bhutan, Nepal, Sri Lanka, Philippines and Kenya. Some other reasons that makes us the best are as follows:


A wide range of products to choose from. Besides, Paper Billing Roll, Stainless Steel Milk Can and other products, we also offer Milk Testing Equipment, Milk Testing Chemical and Thermometer.
Different shipment modes like Air, Rail and Road to ensure safest and fastest product delivery.
Flexible payment options including Online Payments, Cheque and DD.
Client Satisfaction and Quality Assurance
There is no denying to the fact that to achieve maximum client satisfaction it is important to offer them products of unmatched quality. This is being the reason, since the time of our emergence, we have focused on maintaining the quality standards of all our products by carefully testing them on parameters like durability, easy operations and dimensional accuracy. We also ensure that each product is packed using top-of-the-line packaging material like corrugated boxes, sheets, cartons, etc., to eliminate the chances of product damage during transportation process. Therefore, our brands, Bimal and Atago are loved by our domestic, National and International customers.
Our Team
20 in number, all our team members work in coordination with each other to attain our goals within the committed time frame. Years of experience and creative ideas, make our team different from all others in the industry. Manufacturing personnel, quality controllers, warehousing personnel, packaging experts, research analysts are some of our team members who remain on their toes for sufficing the demands of our customers for qualitative range of Milk Testing Equipment, Liquid Detergent, etc.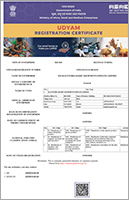 Get in touch with us